Here it is…the full Twitter conversation with CrossFit HQ. I am simply posting this in its raw format, without commentary, so you can draw your own conclusions. 
A Twitter conversation is really challenging to have, follow and to present in a format that is easy to sort through. There are lots of twists and turns. Questions, comments and answers don't necessarily come in order, and when others join in the conversation, it can take different paths. Mad props to my Lead Admin, Brittany Haidet, for pulling these composites together. You will need to enlarge your screen to see them clearly. Read them from top to bottom, then repeat as you move left to right. To try to help keep things as clear as possible, there are places where the original question or comment that sparked a part of the dialogue is repeated and marked as such for clarity and context for the tweets that follow. 
For context the original posting by CrossFit Games showing the Pee-R can be found here.
My original blog to try to respectfully open a dialogue can be found here: Dear CrossFit HQ. That dialogue follows below. 
Earlier this week I posted another blog highlighting the evolution of thought we all go through when presented new ideas and evidence, me too. I was also hoping to highlight that I am not alone trying to change this conversation on and offline.  We are all working together for the common goal of keeping women and men participating in fitness over their lifetime.  
And now back to our regularly scheduled program….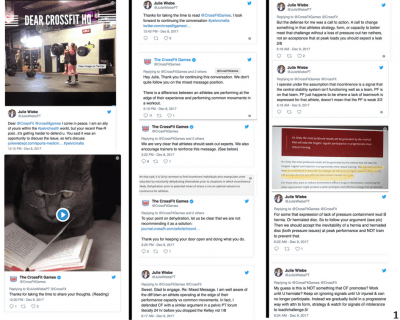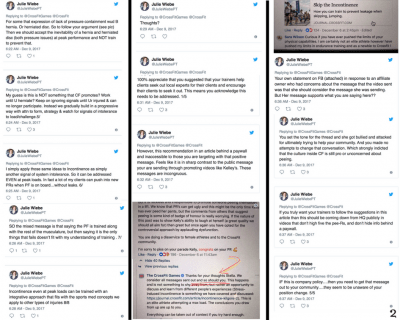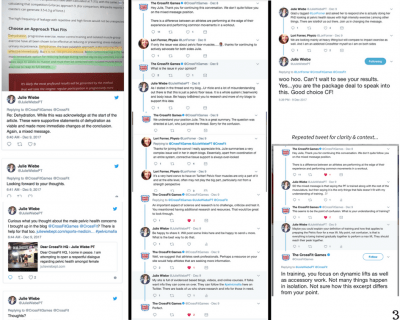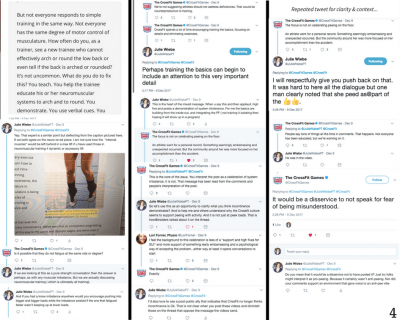 Your questions, comments and thoughts are welcome, please keep them constructive.
Thanks all, and happy holidays from our team to yours. 
Don't wanna miss a post and get online course updates and discounts….join my newsletter here.